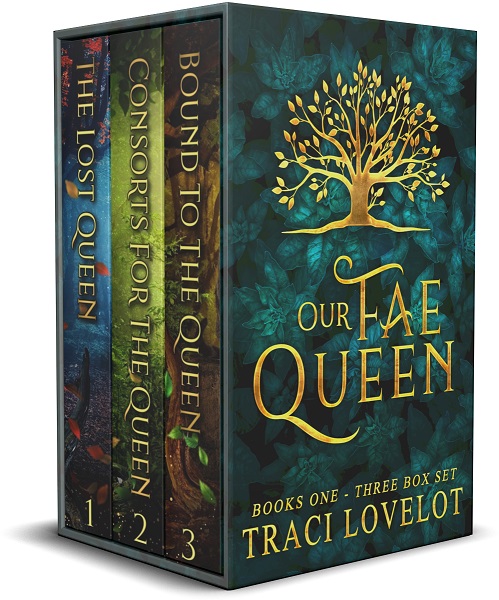 Now you can read the first three Our Fae Queen books at a discounted price in one convenient box set... Plus the first two steamy bonus chapters (from the guys' perspectives) and two bonus character interviews where Merc pesters the guys!
Order Now!
About the Book
This discounted box set contains the first three books of the complete Our Fae Queen series:
The Lost Queen
Glori was just a misfit college student… until some sexy fae warriors kidnapped her to save her life. Only their love can convince Glori she belongs as their queen.
Consorts for the Queen
All five kinds of fae are drawn to her… but do they truly want her? Or do they crave the queen's magic? Glori turns to those she trusts the most.
Bound to the Queen
With two consorts, Glori will have to make a difficult decision: Take three more to become queen at last… or step down. But surrendering the throne also means giving up the scholar she's developing feelings for. The exciting third book of this new adult romance marks the point of no return…
Get it on your regional Amazon or in KU here!
Our Fae Queen is a slow-burn fantasy romance featuring a reluctant queen-to-be. Each book is hotter than the last, and steamy M/M and group interactions always involve her.
This omnibus box set clocks in at over 1,000 pages (320,000 words). It contains:
three books
two steamy bonus chapters from the guys' perspectives
two cute interviews where her lesbian best friend interrogates Glori's first two guys
Find the final three books of this complete series on the series page.
What readers are saying about Our Fae Queen: 
I am so hooked on Glori's story and can't wait to find out what happens – Jen on Amazon
Traci Lovelot really has outdone herself – BookishWeeb Olivia on Goodreads
I almost got fired for this book… worth it! – Boof S on Amazon
Get more bonus chapters when you get email updates from me, which include sales alerts, news about the upcoming box sets and audiobooks, and more!
Or follow me on Amazon, Goodreads, or Bookbub for a new release reminder of the next book in the series!
Other Books in "Our Fae Queen"