Wow, it's already Friday the 13th, and I still keep putting 2022 all over everything!
When I look back at 2022, I see a lot of amazing books…
But I'm not slowing down. If anything, I want to speed up! My goal is 5 books for the next couple years, then eventually 6 books per year plus MULTIPLE bonus chapters, short stories, side novellas, and who knows what else! 😅
You can help! 💪
Join my Patreon community to give me the push to release extra books each year!
As a Patreon member, you can read all of these books BEFORE they arrive to Amazon
Yes, that's on your favorite device, even the Kindle! Or in the Kindle app.
You can change your subscription or even cancel if you have to. I totally get it — our budgets change when life happens, so no hard feelings!
Patreon members can read Mel's Vampire Coven Book 2 before it's even published!
And now, there's also a steamy bonus chapter to discover…
A sneak peek of Hudson and Mel, reunited…
"Can't sleep?" Hudson's voice was low, accusing yet seductive.

"Too busy thinking about our last night here," I admitted, my eyebrows raising with a hint of a challenge in my voice. "The ropes are still in place if you—"

A blur in the darkness was the only warning I got before the vampire was on top of me, his fangs extending. The color in his eyes told me he was fully in control.

He began kissing down my neck, his fangs occasionally dragging against my skin. Every time, I held my breath. And every time, he only teased me.

The towel around his hips came undone and fell away, revealing his length in the moonlight. Then he rose up to kiss me again, stealing my breath with the passion behind that kiss. I kept my tongue in check so I didn't accidentally nick myself on one of his fangs.

He kissed my hipbone as he slid my pants off. "You got to ride me last time. This time, it's my turn to be on top."
Want a REAL teaser?
My next email will have a super sexy teaser, just wait… 😏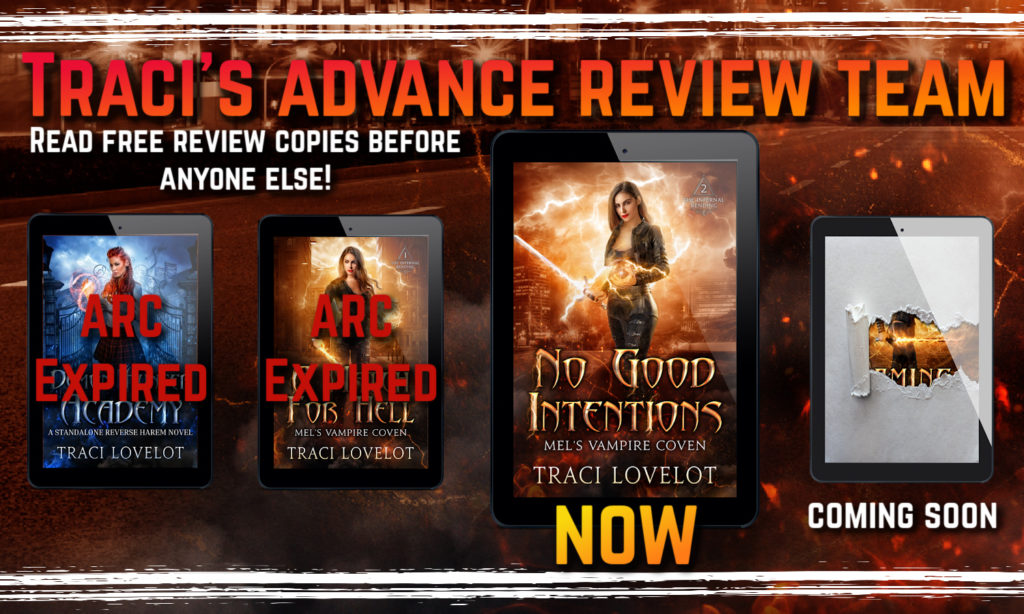 Ready to read No Good Intentions? 😉
Delve into it right NOW when you join my Patreon community
OR
Read the ARC if you join my review crew…
Follow the links to find out more about either option.
I'd love to welcome you in, either way! 🥰
As a vampire hunter, she lives by one rule: All vampires must die.
Read Mel's Vampire Coven Book 1 on Amazon or in Kindle Unlimited!