As a member of Traci's Reader Team, you have access to secrets nobody else does! 🤫
IMPORTANT: Please do NOT send this page to those who aren't on the team!
(They can try to join the team by going through the gauntlet just like you did!)
Table of Contents
Coming soon to Traci's Reader Team…
I generally try to publish books every 90 days, give or take a couple weeks, but in 2023, I'm going to try to get even faster!
Sometimes I'll set my release date on Amazon a month later just in case anything crazy happens 😅 but I will usually move the launch date up by about 4-6 weeks.
MVC3 may launch in May 2023. 😣 I will do my best to bring it up to April 2023, though!
Nothing is set in stone, especially with the busy year I have planned, but here's the idea:
*Mid Jan 2023: Mel's Vampire Coven Book 2 ARCs* (please add to your Goodreads shelves!)
Late Jan 2023: Publish Book 2: No Good Intentions (please review!)
April 2023: Mel's Vampire Coven Book 3 rough draft for your feedback
*April 2023: Book 3 Finale ARCs*
Early May 2023: Publish Book 3: Taming Old Flames (please review!)
1 September 2023: Publish MVC Box Set (please copy over reviews!)
Early Sept 2023: A NEW book (rough draft) for your feedback!
Remember to keep all of this CONFIDENTIAL! 🤫 Especially since dates may shift…
Like I said… a busy year! 🏃‍♀️ I hope you can keep up!
ALL Traci's Reader Team members have the opportunity to give feedback on the rough drafts of my books.
*Want to read future ARCs?
I only send FREE, finalized Advance Review Copies (ARCs) to those who are willing and able to leave reviews.
That means my advance review team is a smaller subgroup of my larger reader team.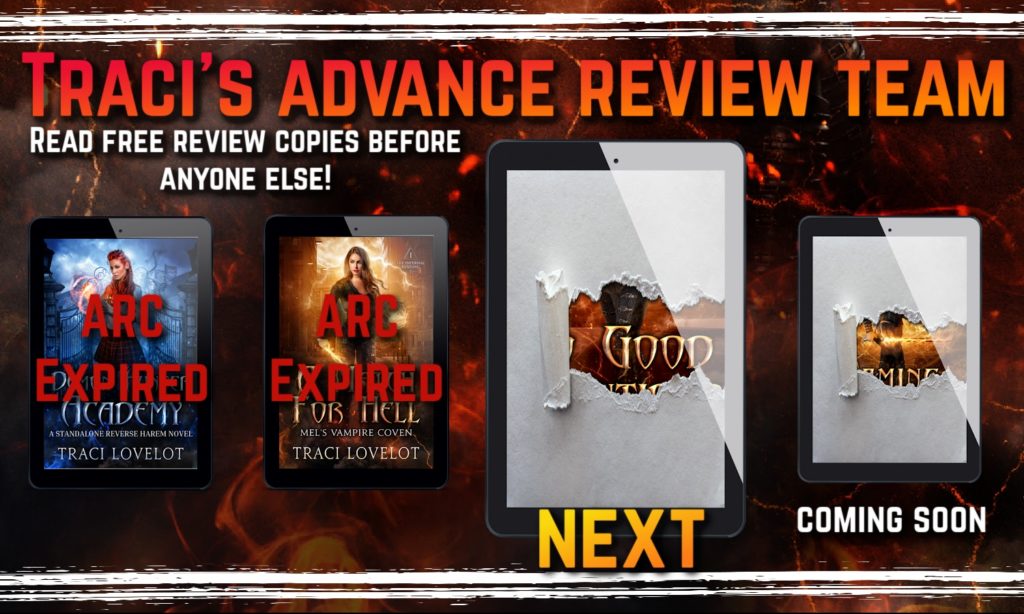 Reviewing my books will get you access to future Mel's Vampire Coven ARCs when you join TART (Traci's Advance Review Team).
However, you are ALWAYS welcome to read the rough drafts of Mel's Vampire Coven in exchange for your feedback as part of my reader team! 👍
If you start falling behind at any point, you can always email me and come back in later when you have more time. Don't worry! 🤗
What needs reviewed right now?
The brand new A Match for Hell (Mel's Vampire Coven Book 1)! Since it's new, it needs love!
🙏 I would REALLY appreciate it! 💖
Then you can join TART (Traci's Advance Review Team).
The Infernal Rending Reading Order
Since 😈 Demon Hunter Academy is a standalone, you can read it before or after 🩸 Mel's Vampire Coven, which is a trilogy that must be read in order from Book 1 to 3.
Chronologically, 😈 DHA takes place two decades before 🩸 MVC1 begins.
👑 Our Fae Queen is a totally separate universe with a continuous storyline, and should be read in order from Book 1 to Book 6.
🤔 Got other questions about Traci's Reader Team?
❓ Check out my FAQs!
📅 This page was last updated on: 23 November 2022