Extra! Extra! Find out all about the bonus content from Demon Hunter Academy here.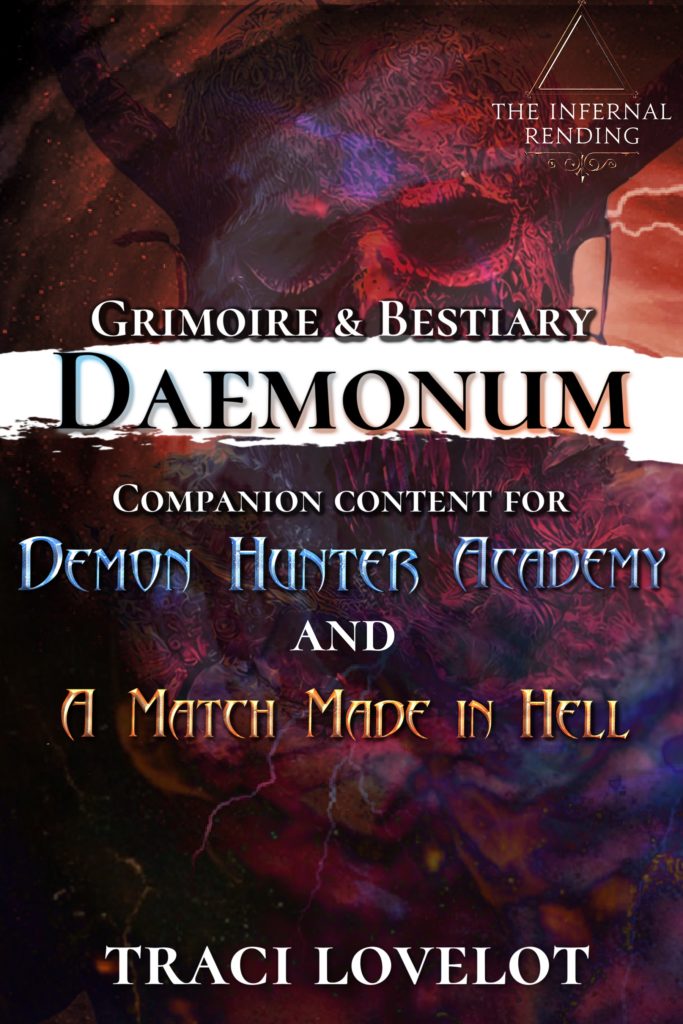 First of all, have you read Demon Hunter Academy?
And don't miss the bonus content from Mel's Vampire Coven!
Table of Contents
Jump to each one to learn how you can get…
The Grimoire & Bestiary Daemonum (the textbook all demon hunters receive when attending Demon Hunter Academy)
A bonus chapter where Lantos proposes — to Fox and Rigel! — hoping to join Nimue's coven
An extended happy birthday chapter from Fox's point of view
The bonus epilogue where Nimue, Rye, Fox, and Lan choose to share a new surname as an official coven (and where some other characters will choose a new surname as well… be sure to stick around for the after-party!)
Plus… How to request more bonus chapters
The Grimoire & Bestiary Daemonum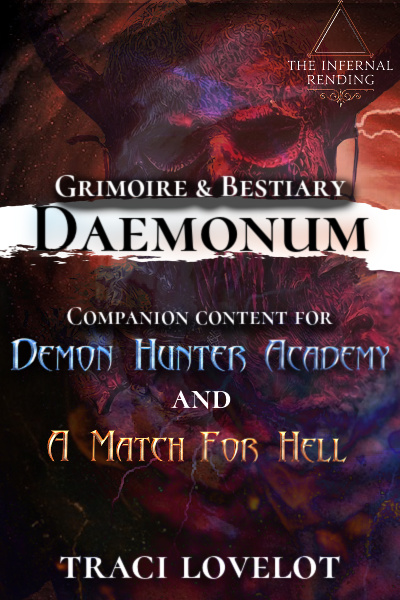 Pick up the Grimoire and Bestiary Daemonum, where you'll learn all about your magic, how to kill demons, and how to survive in the Infernal Rending Universe…
This companion booklet describes in great detail all the demons from the Infernal Rending Universe (Demon Hunter Academy and Mel's Vampire Coven).
The Grimoire and Bestiary Daemonum is now available to everyone — FREE!
Download it from BookFunnel, who will help you get the ebook on your device.
Help get it illustrated!
If enough readers are interested, I'll even get this guidebook illustrated!
Join Patreon to help make it happen!
When we reach certain milestones, I'm also planning to get naughty illustrations of all the men of the Infernal Rending Universe… 😏
Lantos proposes (bonus chapter)
Which versions of the book contain this chapter?
The Patreon Early Release version (May 2022) – included!
The free ARC versions (June 2022) – NOT included
The final, published version – included!
Read it NOW inside of the book!
Demon Hunter Academy is on Amazon and in Kindle Unlimited, so pick up the final, complete version, which contains this secret chapter!
🚨 A special warning: If you borrow the published book in Kindle Unlimited, please do NOT try to skip ahead to where you think the chapter will be. Amazon could severely penalize me and take down the book entirely if too many people do that.
Extended Happy Birthday chapter from Fox's POV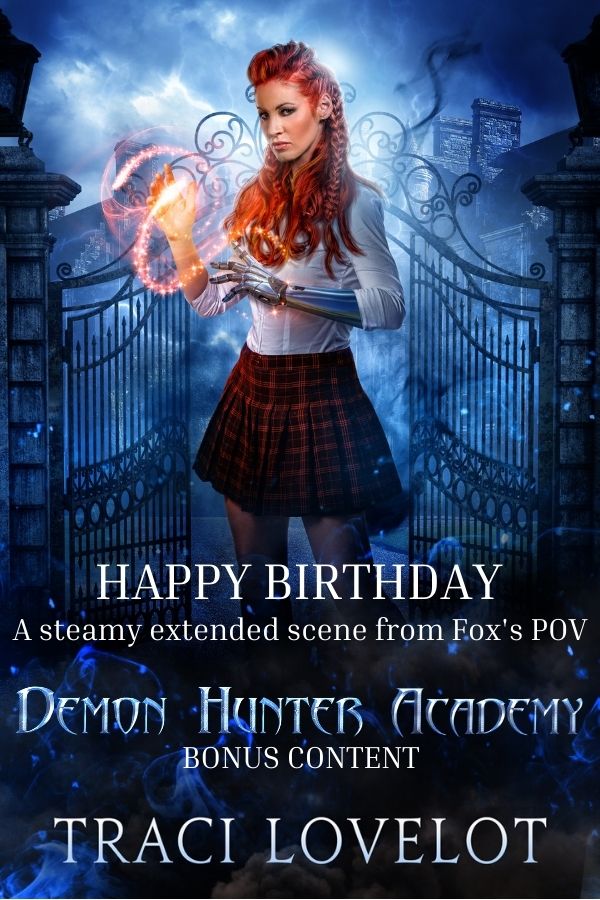 Read it NOW
Remember that sexy spanking Fox gave Nimue in his kitchen? Read what happened that night… from his perspective!
You can now find this FREE extended chapter over on BookFunnel!
The sweet & steamy bonus epilogue to Demon Hunter Academy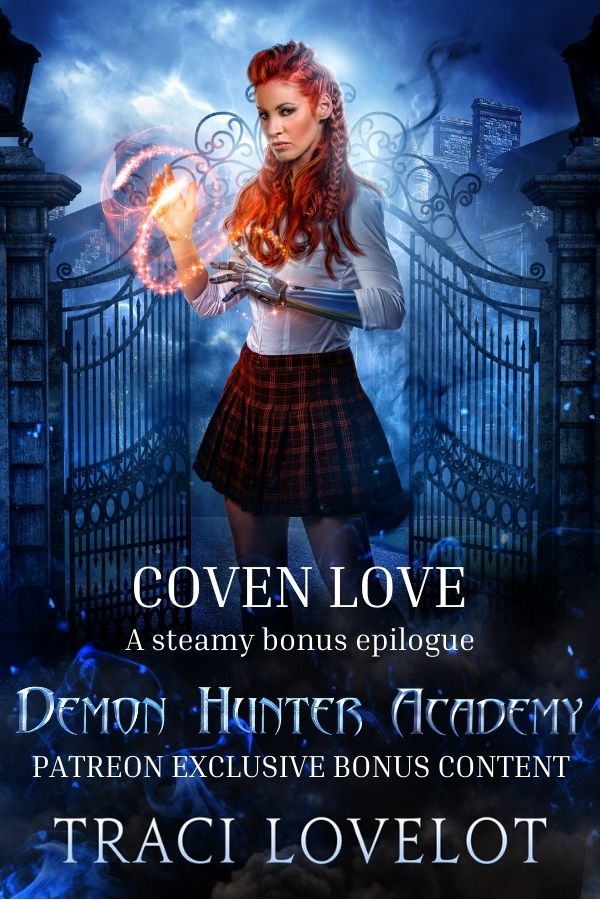 This bonus from Lan is TWICE as long as the extended birthday bonus chapter from Fox's POV.
Nimue, Rye, Fox, and Lan finally become an official coven and choose their new surname during the festival!
And another coven will choose a new surname as well… be sure to stick around for the after-party!
Yes, there will be steamy group action, of course!
Read it NOW
Coven-Love is exclusive to Patreon members and will remain so while Demon Hunter Academy is available on Kindle Unlimited.
The earliest you can hope to see the epilogue outside of Patreon is sometime in 2023.
To read it this year, join Patreon for as little as $1 a month to get it!
I'm always putting up behind-the-scenes content on Patreon before anywhere else, along with bonus chapters as you see on this page.
You can also read Mel's Vampire Coven chapters as I write them, and read the books weeks or even months before they arrive to Amazon! On your device of choice!
Join now and be guaranteed to read Rejected Wolf Pack books EARLY for as little as $1 per month. Pay in your country's currency. Cancel anytime, no hard feelings!
Request more bonus chapters
Patreon members can always request more bonus chapters from any book I write!
Every month you'll get great stuff like Early Releases (read my books BEFORE they're published), bonus chapters, and work-in-progress chapters of the book I'm writing right now!
After you join, send me a message with your request, or comment on any of my Patreon posts!